Internet Services
Internet services have traditionally been the core element of the Cyber-dynamics range of products and services. We have been providing internet services to the world since the mid-1990's, and are building a reputation as the world's leading supplier of internet services for Internet Service Providers (ISPs).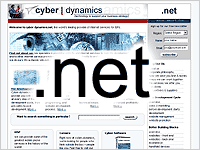 We develop websites for business, government, not-for-profit and leisure use. As always, our first interest is why the website is needed, what are the business objectives, what is the target audience, how will they find the site, and how will they use it. When we know more about this, we can advise about the most suitable site; and design, build, host, promote and manage it.
We have excellent creative designers, graphic artists, photographers, animators, copy-writers, authors, editors and producers who can help put together the content. We can follow your corporate design, or create a new image for you with a theme appropriate to the mission and target audience of the site. And we can help ensure that the content has the appropriate balance of information, marketing, sales interactivity and other elements.
We provide content management for static and regularly changing pages, and dynamic pages which pull in information from other web sites, service providers (eg, current news and weather) and back-end databases. We have an extensive range of modules to provide information, interaction and automation.
We develop for all delivery platforms from wireless, through dialup to broadband, from the smallest mobile and handheld screens to wall displays, for all operating systems (Unix, Windows, etc) and all versions of all browsers (Microsoft, Netscape, Opera, etc). We have a unique understanding of how these variables can cause big variances in presentation – and we develop and test to ensure optimum performance.
Just as you would not have brochures printed and then leave them in a cupboard, so websites need ongoing care and attention. One of the most important activities is promotion, to ensure that effective traffic is driven to the site. We can plan a marketing and promotion strategy and follow through to ensure that the return on your investment exceeds your expectation.
To find out more about our exciting range of Internet Services, please visit www.cyber-dynamics.net.