Sample Newsletter
Business: Using the Appropriate Technology
A challenge for any manager is selecting the most appropriate solution for the job in hand. As the saying goes, you don't buy a sledgehammer to crack a nut. But how can you be sure that you are not being sold a sledgehammer by your advisors? This article provides a few hints on making good decisions in general and especially with regard to investment in technology.
The Internet: Understanding Domain Names
Domain names are taken for granted as a means of finding information on the Internet – but how do they work, and where did they come from? Read this article to find out more about domain names.
World In Focus: Biometric Britain within 10 years?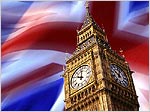 The UK Government is currently attempting to introduce a national system of identity cards. The plan, being presented by the Home Secretary, would make the identity cards compulsory for British Citizens by 2013. The new identity cards – if they are introduced – will contain biometric information about individual citizens.
Geek Speak: Cookies
If you think the only connection between cookies and computers is that you eat one when you are sitting in front of the other, then this article is for you. Find out what cookies are and what they do by reading this concise explanation by Mike Takashino, our guy with an eye for detail.